Introduction
Wakayama Industry Promotion Foundation(WIPF) was established in April 2011 as a Public Interest Incorporated Foundation.
We would like to have all of you to utilize WIPF willingly because we perform general support depending on a stage of the business development of all small and medium enterprises (SMEs) and want to meet SMEs needs precisely.
Mission
WIPF comprehensively supports various business activities such as the technology development, human resource development, market development and capital in various aspects such as start of business, innovation of technology and management and creation of new business for all SMEs in Wakayama prefecture, as well as promotion of the regional industrial technology.
WIPF aims to contribute to the development of the regional economy by supporting various business activities.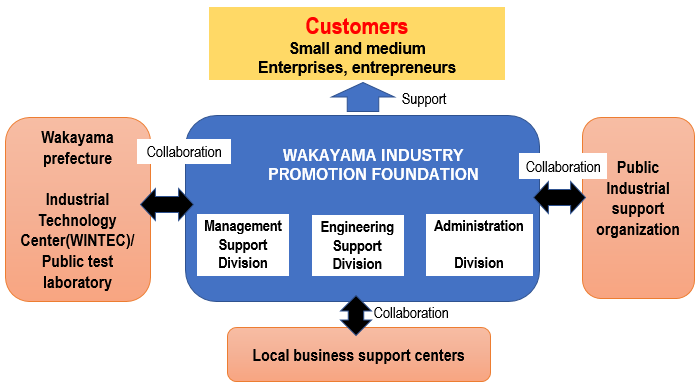 Basic Information
Name
Public Interest Incorporated Foundation Wakayama Industry Promotion Foundation
Location
Forte Wajima BLDG., 6F 2-1 Honmachi, Wakayama-city 640-8033
TEL: +81 73-432-3412
FAX: +81 73-432-3314
mail: kokusai@yarukiouendan.jp
Established
April 1, 2011
Basic Fund
18,000,000 yen
Representative
Masahiro Shima, Chairman (President of SHIMA SEIKI MFG., LTD.)
Main Business
Support the founders and entrepreneurs.
Analyze company management issues.
Support the growth of companies.
Support the creation of new industries. (new technology, new products)
Support expansion of sales channels and expansion of transactions.
Support overseas business development.
Support intellectual property rights etc.
Consult and support the project funds.
Wakayama International Business Support Desk
In cooperation with JETRO*, JICA*, ABIC*, specialists of international activities, we offer the various support, suggestion and assistance to SMEs who are doing / hope to start international business.
Offer advices for inquiries on international business.
Organize international trade lectures.
Organize international business seminars.
Support group exhibitors of overseas exhibitions.
Support sole exhibitor of overseas exhibitions.
Support business mission to abroad.
*note;
JETRO: Japan External Trade Organization
JICA: Japan International Cooperation Agency
ABIC: Action for a Better International Community